You can view your measurement results from the Results tab in Firstbeat Life app. If you don't have any measurements yet, you must first complete a 3-day measurement. Find the instructions for completing the measurement here.
When the measurement is completed, you can remove the electrodes and measuring device from your skin. Check the instructions for ending the measurement here.
You can view your most recent measurement results either through the Home view or by selecting the Results tab.
Home view shows a snapshot of your most recent measurement's results. You can see the total score of your measurement, as well as scores by category. To view your results in more detail, press the Open Results button.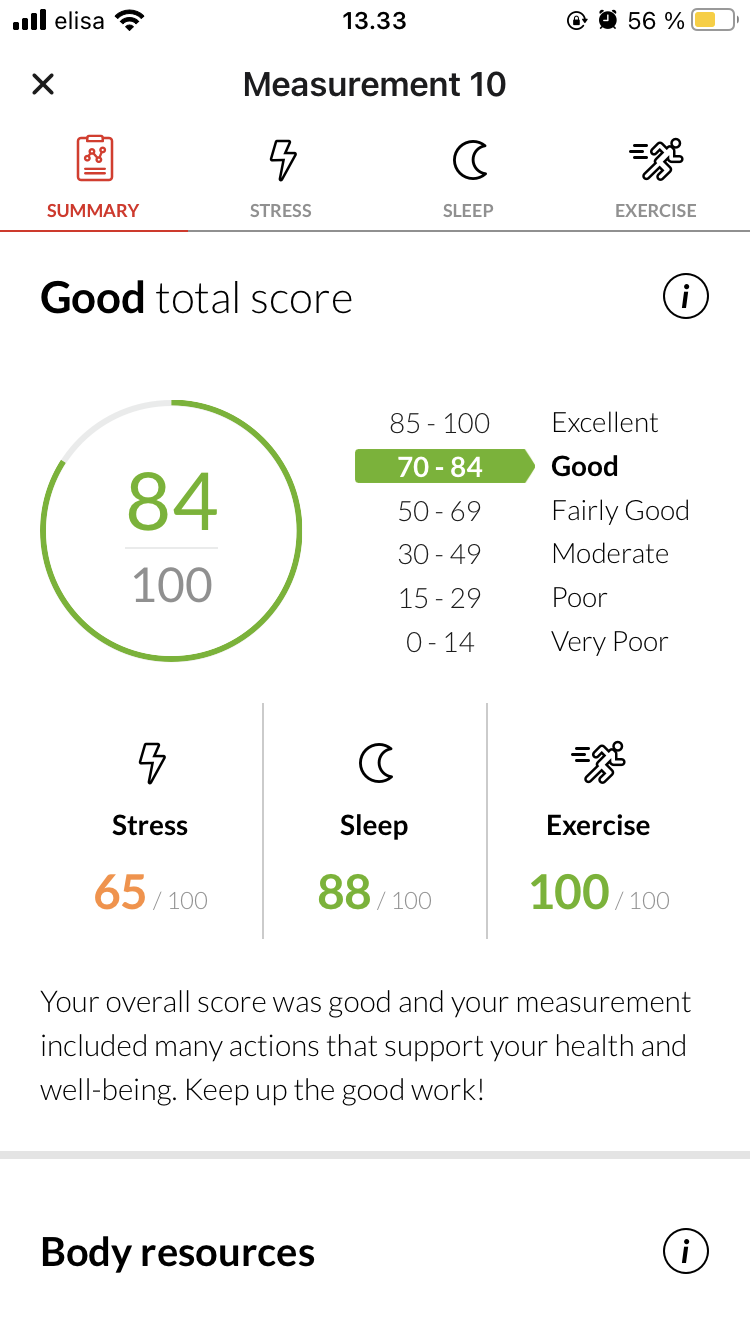 The Results menu lists all the measurements you have done. When you have multiple measurements, you can also view measurement results trends.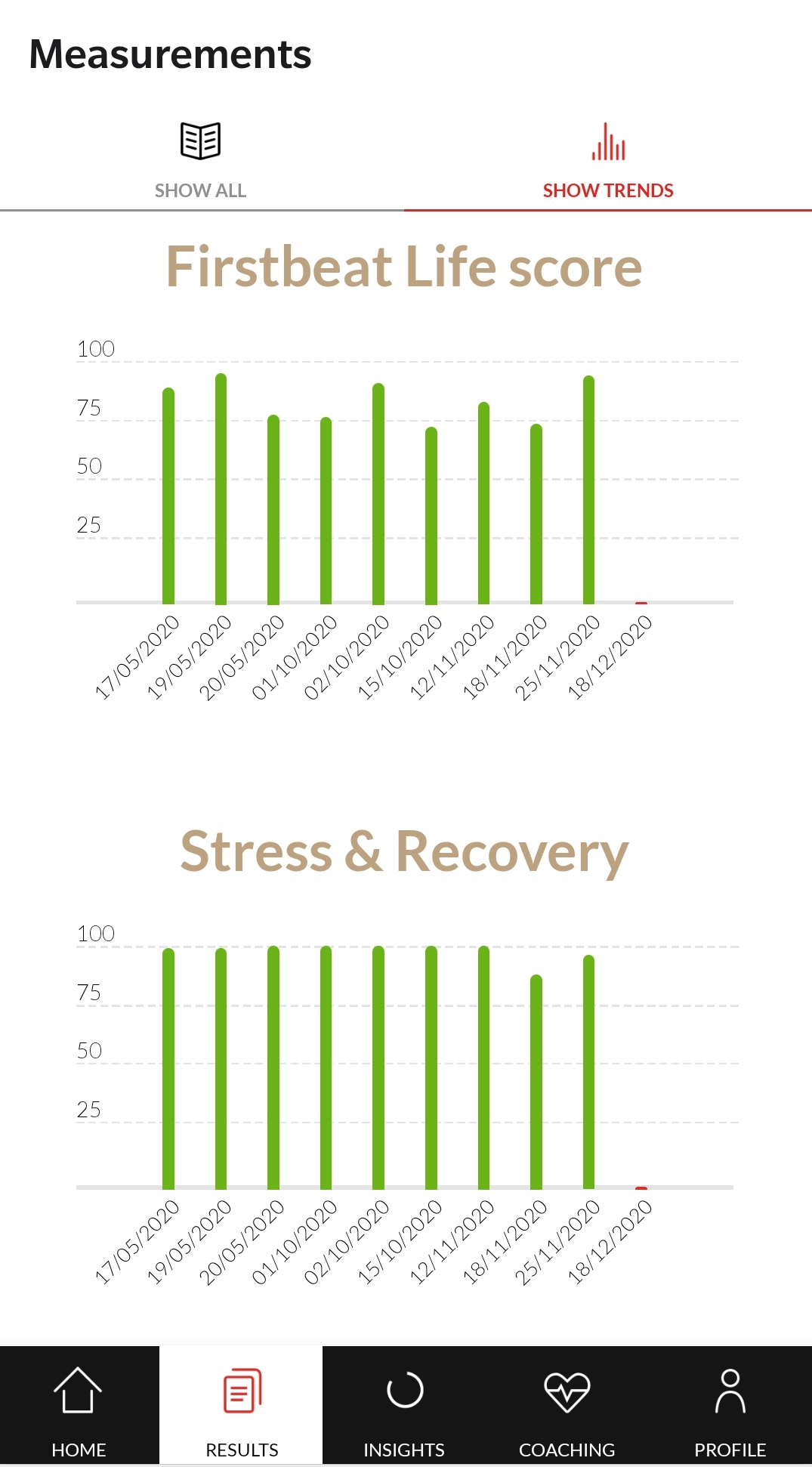 Scroll down the page to see more trend graphs.
In the measurement results view, you can take a closer look at your stress, recovery, and exercise results by pressing the buttons in the top menu.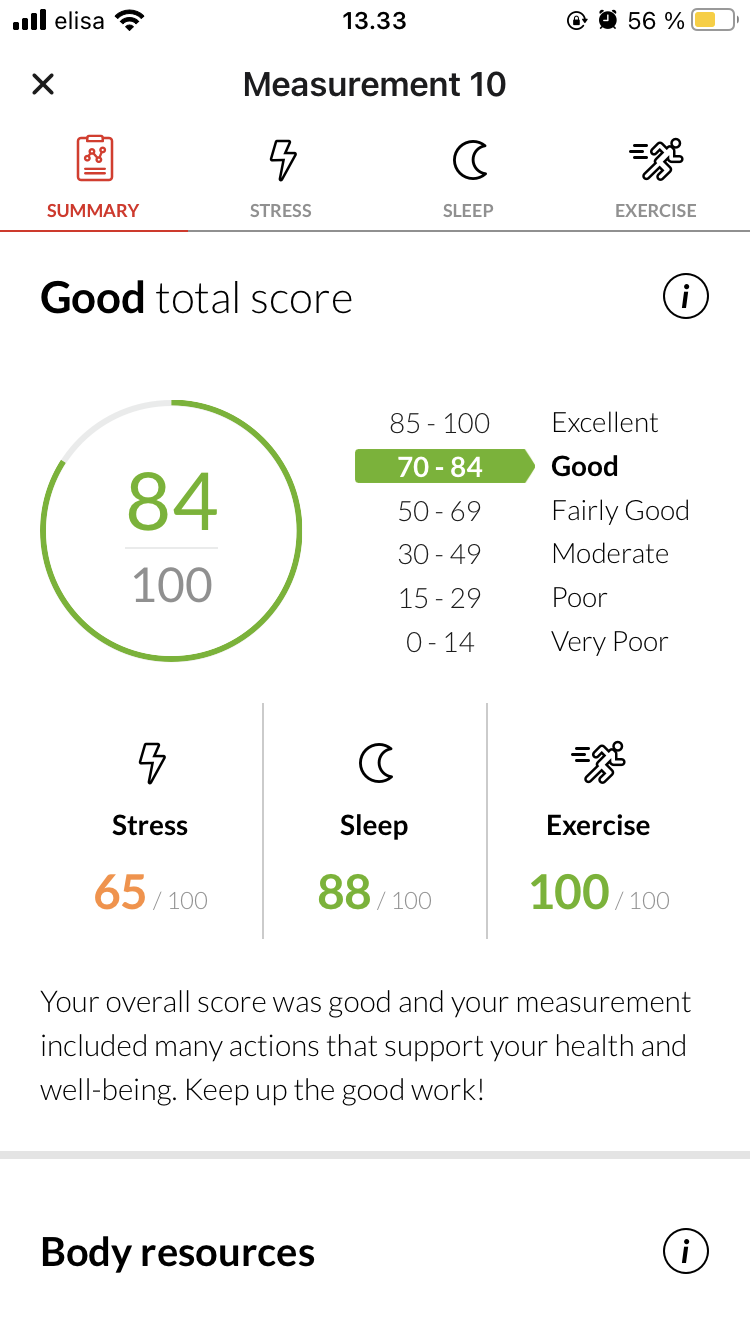 Scroll down the page to see more information about your measurement. You can see for example your lowest and highest heart rates during the measurement, and your background information during the measurement, such as height, weight, and maximum heart rate.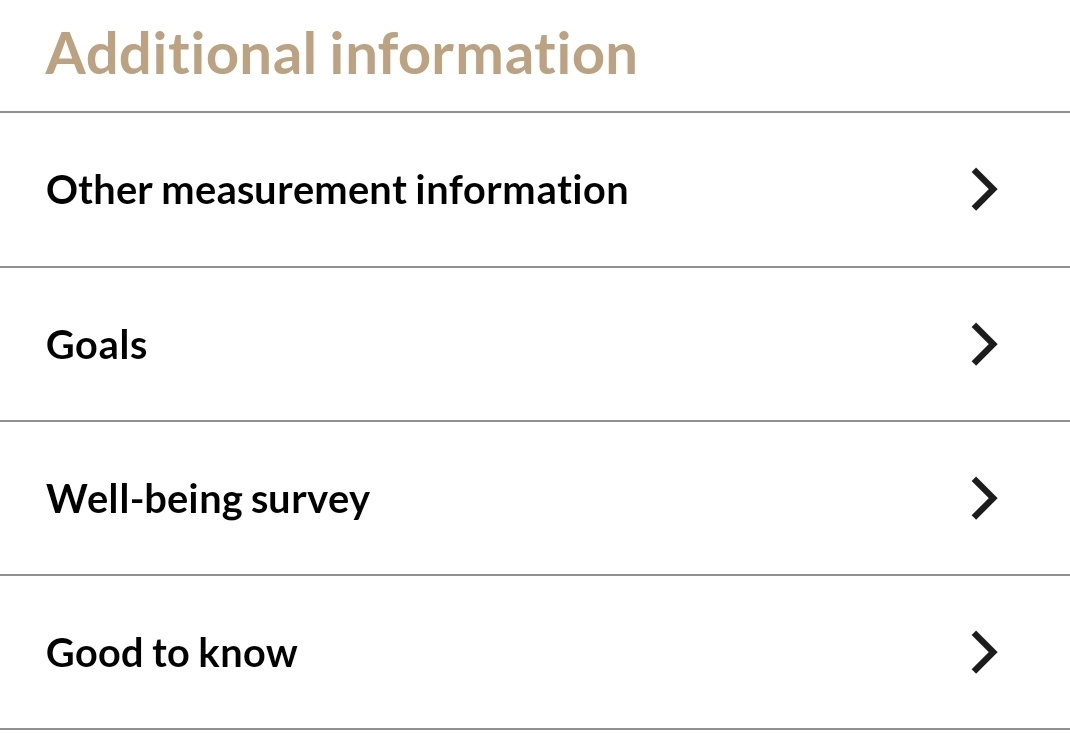 You can also check your Fitness level result on the Summary page by clicking the Show button below the Fitness Level. If you didn't get any results for the Fitness level, the button shows No results. Check here for tips how to determine the Fitness level.
To see your Body Resources, press the Show button below the Body Resources.
To take a closer look at your results, tap from the top bar to select the next view (e.g., Stress).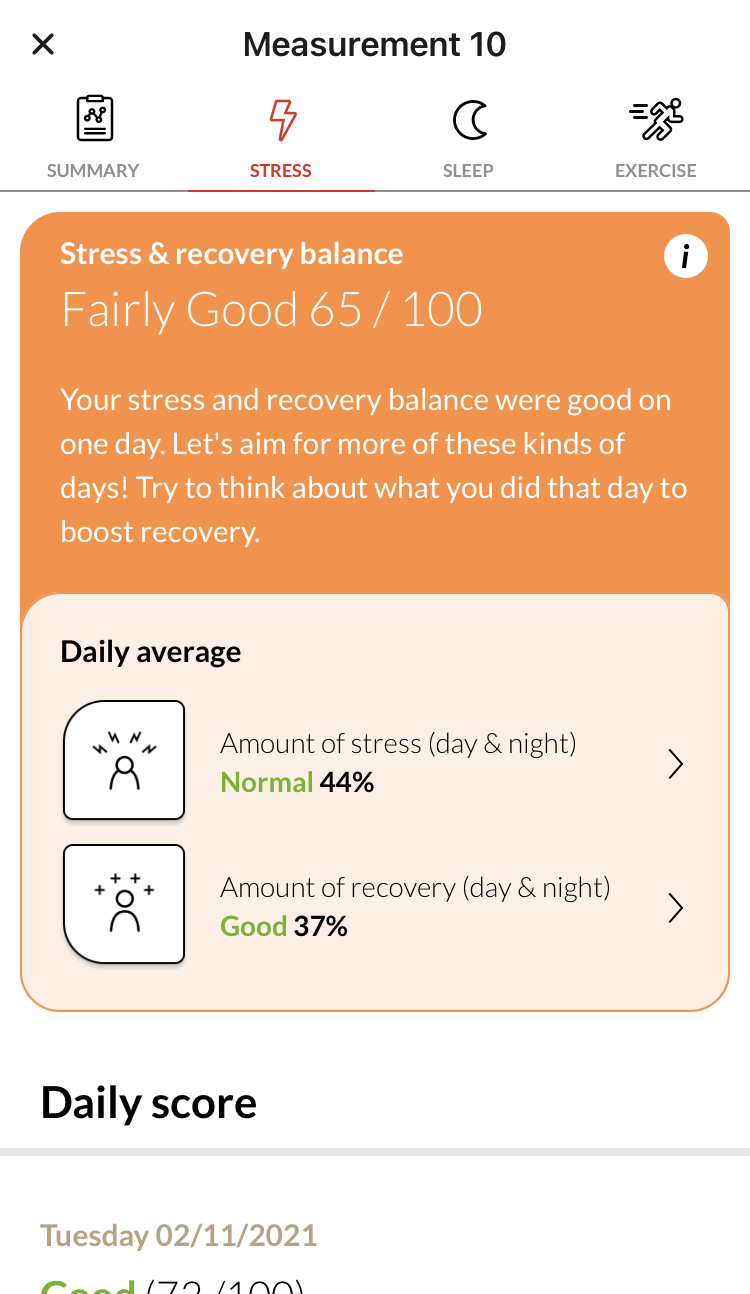 You can check the Firstbeat graph for each day individually by first scrolling to the daily result and then tapping the Open button.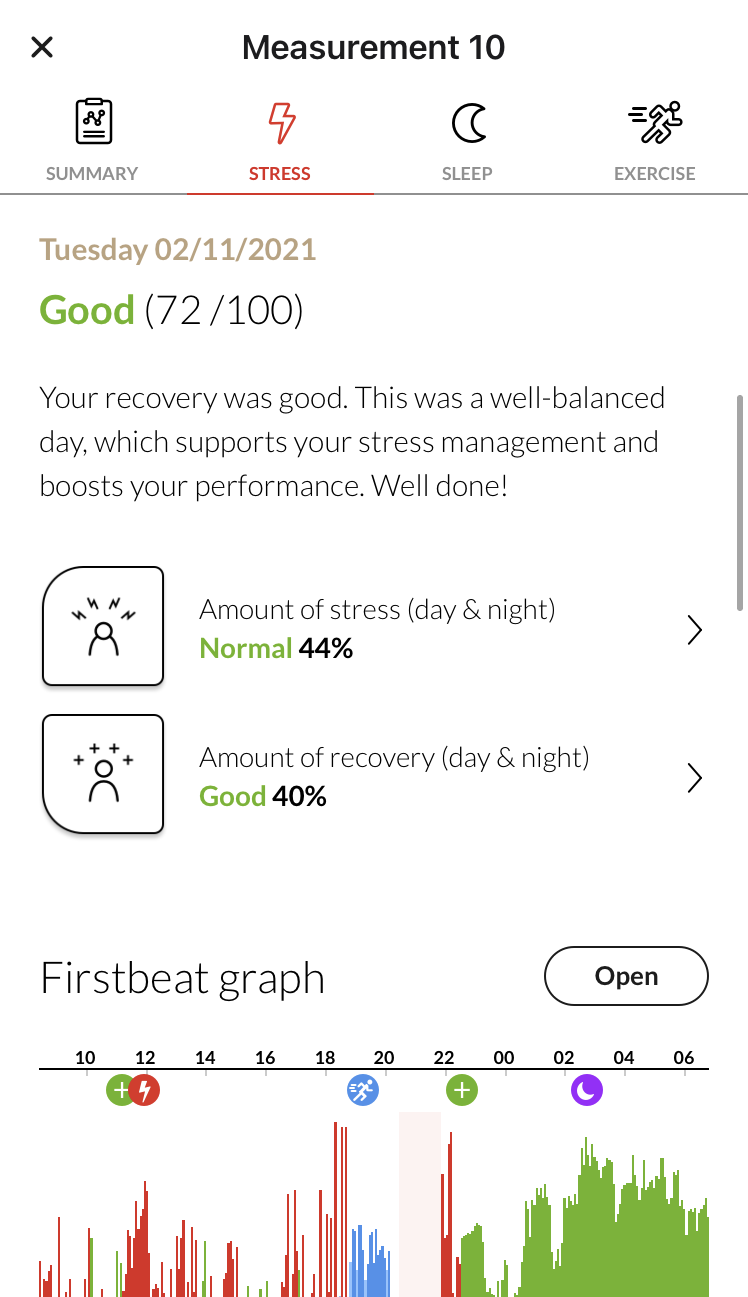 You can view the graph with or without a heart rate and HRV (Heart rate variability) curves. Press the Heart Rate or HRV button in the upper right corner to turn on these curves. You can zoom in to view the graph in closer detail by pressing the zoom buttons on the lower part of the screen. You will also see the journal activities below the graph.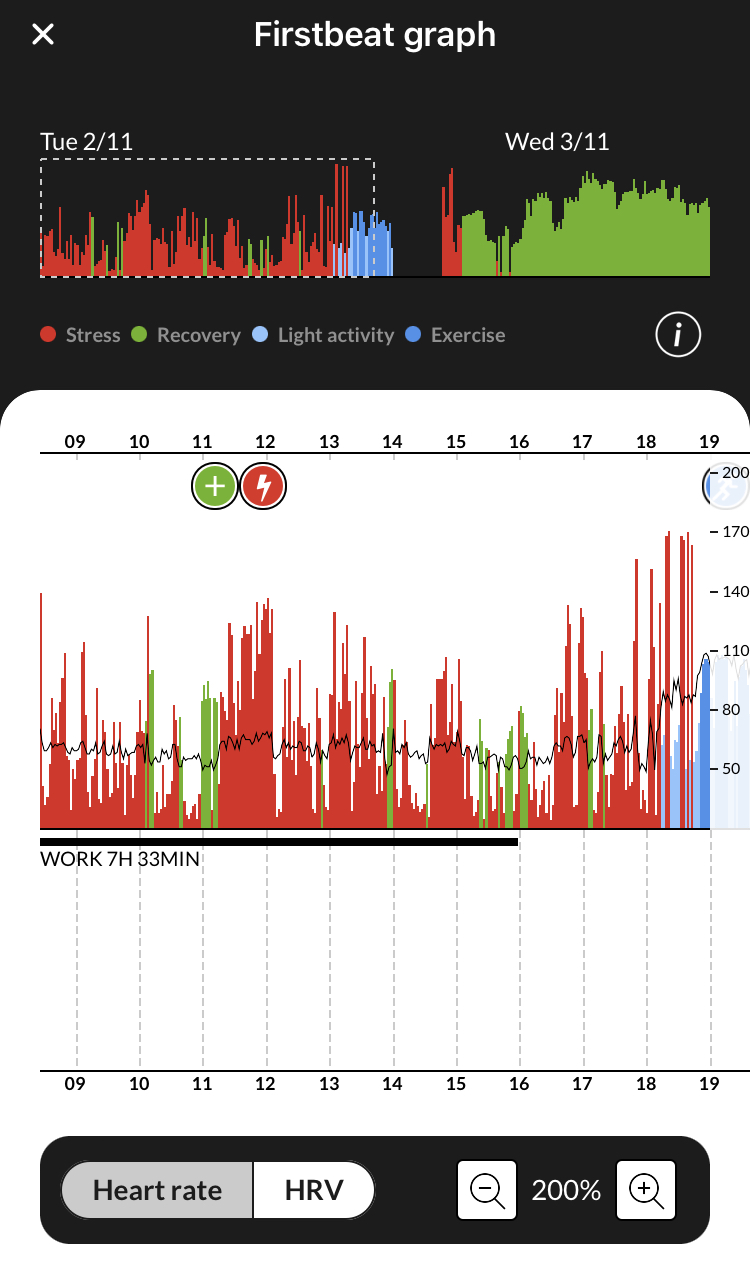 Press the X button in the upper left corner to close the detailed graph and to return back to details.
Each day has its own detailed graph, which you can open from the daily results.
If you need any further help with this, don't hesitate to contact Firstbeat Support.